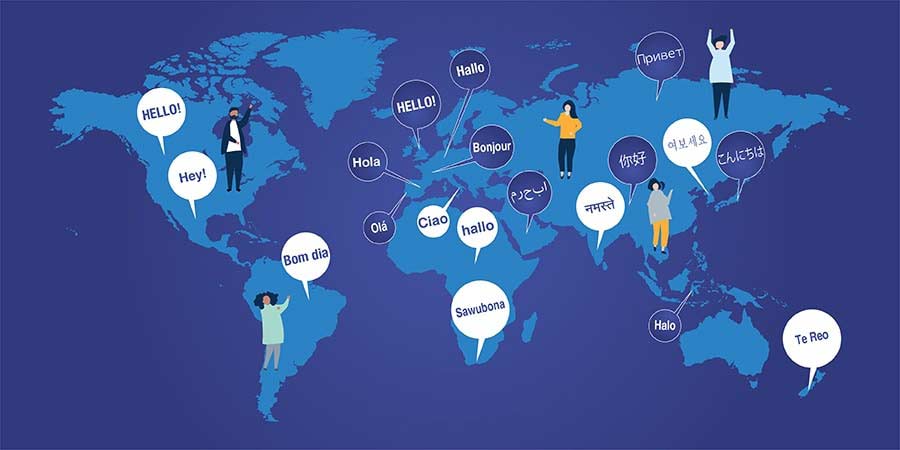 Digital business is making a far-flung conversation between the poles of the globe, imposing them to speak a common language. Perhaps, there are experts who have researched and concluded that this transformation will happen and societal will have to adopt a common language giving native language equal importance.
Well, studies show that organization's, face concerns while doing business cross-border and the reasons are many and one of the major concerns is the English language barrier. What if brands choose a native language over English, will it make companies understand their customer in depth? What are organizations doing to understand those customers who do not speak English? All these questions have answers here.
If we think that English is the most spoken language then it is right but 81% of people don't actually speak or write English, so how are consumers communicating with their reseller when they don't know the English language? This is a real concern. Well, the fact is most of the people browse their products and services in their local language so that they completely and efficiently understand what are they buying and what are the practicing norms.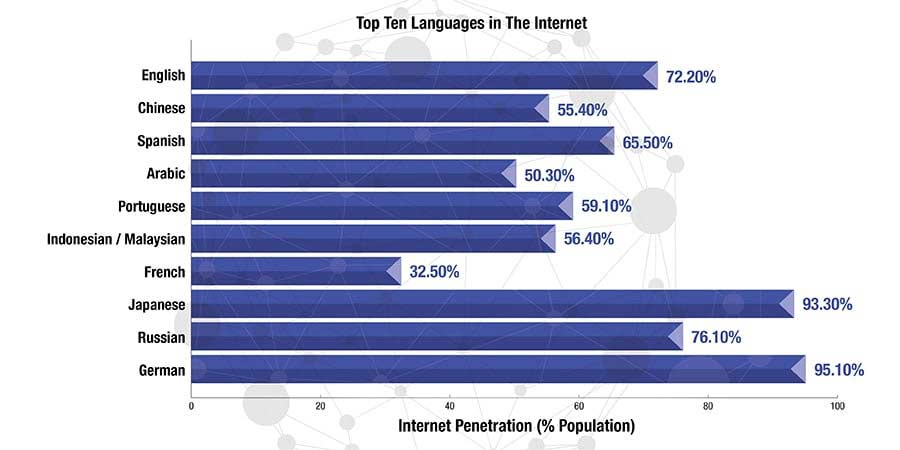 Top ten languages used in the web and its internet penetration in 2018 (Source:Internet World Stats)
According to the survey on language preferences by common sense advisory:
The English language has 25.3% of internet users worldwide.
Internet world stats says the penetration of English language is about 72%.
A recent poll conducted on social media shows 80% of people like to post reviews in the English language.
This is raising concern and diverting all the attention toward understanding customers in their own language. Though the education of English language is widespread but don't you think organizations should take care of multilingual sites so as to learn and analyze their customers effectually.
Breaking the language barriers
The e-commerce market has already realized this blockade of multiple languages and has already worked upon it primarily. You would have already observed by now that e-commerce websites has given an option to translate language in the local language but are they doing anything about the reviews and comments to be written in the native language? What about developing more options for translation and localization? What are some things that online international sellers must provide to their global customers?
Here are few expected things that international sellers should serve their global consumers:
Localize, optimize and simplify the website
An aggregated platform to analyze and collates views in their local language
Aim to make shopping simpler in terms of look, product search and payment methods simpler
Identify each customer needs, viewpoints and suggestions and take that into account using sentiment analysis
Using your advanced tools like NLP (natural language processing), AI (artificial intelligence) and ML (Machine learning) create an algorithm that detects customers of any language and localization
What should be done now?
The international eCommerce market today is just concerned about how to satisfy their customer which can help them drive more business. Listening to your customers (good or bad reviews) is always a fix to what a customer wants. There are multiple people speaking multilingual languages from different corners of the globe but are retailers, eCommerce or manufacturers listening?
Breaking down the language barrier is the solution here. We are living in an era where machines understand what a human wants but there is always the language barrier that comes into the picture. Advance technologies like natural language processing and machine learning are to be made so acute that they understand local languages and get deeper with their customer's needs. This will develop a trust and a feeling of confidence in customers for opining in the language they want and there are technologies analyzing and working on their needs. This will enhance customer service from an international business perspective.
Make an effort and change the perception of understanding customers in not just English language but in a language, they are comfortable in. Else, there are possibilities of presumptions falling true, that companies may lose customers for not offering additional linguistic approach.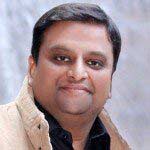 About Author: Chirag Shivalker heads the digital content for Hi-Tech BPO, an India based firm recognized for the leadership and ability to execute innovative approaches to data management. Hi-Tech delivers data solutions for all the aspects of enterprise data management; right from data collection to processing, reporting environments, and integrated analytics solutions.