Actionable insights on global market dynamics
We provide market intelligence to put your business intelligence in context. We help you keep track of your competition and the state of the industry through our market intelligence solutions. Our solutions, of collecting market intelligence, include analytics that help you improve your business model and projections.
Get customized market intelligence solutions »
Our BI analytic solutions are not just a pile of information. They actually are a whole set of theories and processes to collect data.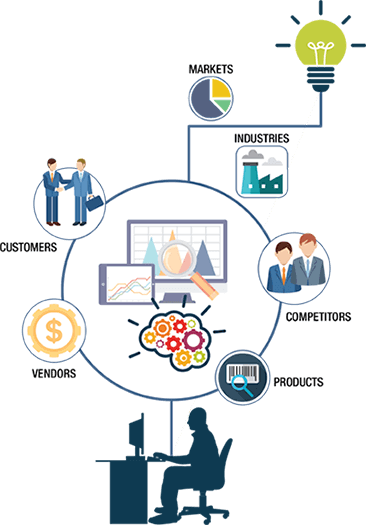 For collecting information, we at Hitech use multiple sources of information to create a broad picture of the company's existing market, customers, problems, competition, and growth potential for new products and services. If required, we also include sources of raw data, for analytics; such as sales logs, surveys and social media, etc.
Our data solutions provide business insights like visiting a competitor websites or store. We collect published information about the number and type of potential customers. We keep you up to date with developments in the purview of your industry and market from magazines, journals or business associations. This is then followed with checking for customer comments and online feedbacks that will help your business to improve offers or services.
Our data scientists focus on specific classes of customers, including demographic and geographic information and what they buy, all of which help with information for analytics of business intelligence. We take into account what is happening with your competition, which your business intelligence might be missing out.
Know what is happening in your markets »
Benefits with us
Become data intelligent
Collect, process, and store data for varied product and service categories in geographies under review.
Knowhow of evolving markets
Quantitative data about market size and historical/forecast evolution of products and services.
Knowhow of evolving products
Qualitative data about existing market trends and developments expected for products and services.
Competitive intelligence
Understand the competitive and distribution landscape to thrive in concurrent market dynamics.