Data Visualization; Everything About Presentation of Data in a Pictorial or Graphical Format
September 22nd, 2017 | Market Research & Analytics | Chirag Shivalker
Huge amount of data and access to information, are driving artificial intelligence and digitization change that has taken industries across in a stride. But all the data and all the information derived from it can become a big time liability – if their purpose and outcome is not understood and aligned to organizational goals. It […]
Infographic: Do you Trust Your Data?
September 19th, 2017 | Market Research & Analytics | Chirag Shivalker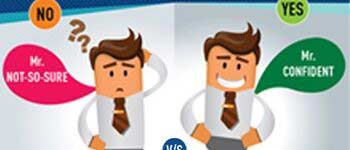 Utilizing data and analytics can result in new insights to drive smarter decision making. But the true value in those insights relies upon on the quality of the data. Increasing data volume, variety and velocity makes it more complicated to establish veracity. Are you 100% confident that your decisions are being made on trusted result?
Client Profiling is not A Persona, But A Customer's Journey
September 15th, 2017 | Market Research & Analytics | Chirag Shivalker

Client persona though based purely on extensive research and solid data in form of facts and figures; upon studying the demographics, one tends to define clusters based on similar characteristics. Important aspects of each cluster are then infiltrated, but only to reach out to a fictional character