Web Scraping Services Imperative for Effective Business Decision Making Process…!!!
Posted by Ritesh Sanghani | Posted on: March 26th, 2015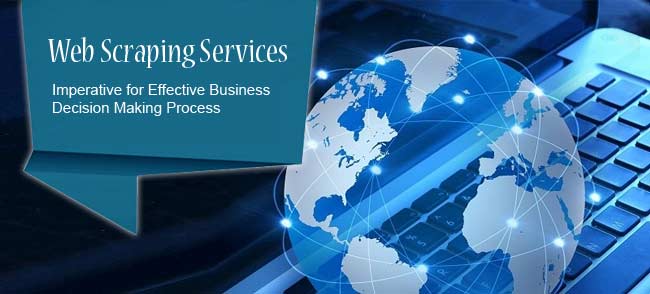 Timely decisions determines how well you will succeed in your business venture! In fact, it plays a very crucial role when things are so dynamic tables can be turned at a drop of a hat! Any delay in translating brilliant ideas into actions at proper time becomes lethal in any business situation. And it directly reflects on operational efficiencies and adversely influences the monetary health of your enterprise. So, what goes in quick and right decision making process? – A quick mind, you will say; no doubts in that.
But, when you talk about right decision (not hasty ones); you also need to be equipped with adequate and relevant information pertaining to problems or a particular business operation for bull's eye! It is here that web scraping services steps into the scene; offering you the best opportunity to fetch required information, enabling the management to get a clear and broader perspective helping them to make a wise and sound decision.
Well, over the time, web scraping or data extraction services has been shrouded with of lot of controversies. Some believe it is not ethical; we have already discussed in in one of our previous articles – Harvest Data from Websites…But How Ethical is Web Scraping?
However, no matter what, one cannot just ignore the pivotal role it plays in providing holistic and practical picture of the situations; making the business decision process more accurate. Since business is not a stand-alone process; and it takes various course of actions for adequate web scraping in order to make outstanding yet informed decisions.
Competitors:
You cannot separate competition from business – They go hand in hand! So, when you know your 'competition' you win half the battle.
Most of the information and facts about competitors is obtained by web research and data extraction process.
It gives an idea about promotion campaigns and after sale services along with the prices offered by the competitors. For any decision regarding the competitors; it is important to begin with the web scraping process at the earliest.
Volatility of Market:
Web scraping widely is used to get a picture of the market and understand the current trends.
It helps in researching market and get some information about the latest prices, customers and so on and so forth.
Getting to know the market is a critical factor that ensures success in any business. Data extraction will help you to know the market calls for the products and helps you to decide when and where to sell.
Web scraping also provides data pertaining to the behavior of the market for a given niche or product.
Loaded with such information enables the management to decide when to start promoting their products and what techniques of product promotion will be effective.
Customers:
Customers, undoubtedly, plays the most important role for success of any business; and gathering adequate information related to the niche customers is the utmost thing to ensure you win.
It is important to collect information pertaining to the contacts, general customer behavior and so on. Such data can be fetched by using web scraping tools. It is thus imperative to begin with the web scraping process and get the data related consumers before making a decision.
This article has outlined some of the decisive aspects of a business where web scraping service become indispensable.
About the Author:
Ritesh Sanghani
is a Director at Hi-Tech BPO for the past 10+ years. Ritesh has worked with several international clients and has executed BPO projects of varying scales and complexities.