Risk Mitigation with Data Management Solutions
Posted by Ritesh Sanghani | Posted on: May 6th, 2014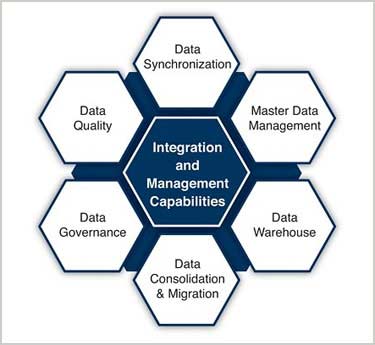 Every business, big or small is susceptible to risks, be it legal, operational, risks due to volatile markets or financial risks.
However, well planned strategies for risk management and mitigation can definitely play a pivotal role in minimizing risks and the potential threats. In this scenario, efficient data management is a key strategy, which every company and every business must employ.
For this, companies need to focus on several data management challenges like:
Leveraging Data Assets:

The most important asset for a business is information/data. It defines the business and should be used beyond operational purposes, for value addition. Leveraging data to the company's advantage is essential. Analysis of data across systems addresses challenges such as revenue assurance, fraud management and customer behavior, thus improving sales. Data as an asset might be less obvious, however when well managed it gives a competitive edge and aids business growth.

Balancing Centralized and Decentralized Data Management:

The debate of centralized vs decentralized will continue forever. Data is of different types, and hence while in some cases decentralized data management is beneficial, there are some types of data where there has to be a centralized system in place that manages and channels data.

In both these systems, it is equally important to eliminate data redundancy and duplication. Data availability, abstraction and recovery are also of crucial importance.

Data Security:

Businesses should safeguard their confidential data. If a decentralized data management system is implemented, it becomes necessary to monitor and expand the way in which data is accessed and modified. Levels of security and data abstraction are a must.

Auditability:

As mentioned above, data security of crucial importance to avoid the risk of any fraud or corruption. While levels of abstraction, firewalls, passwords etc defiantly prevent security breaches, it is also important to monitor security lapses due to negligence or malicious intentions of authorized personnel.

Efficient Use of Resources:

Optimum utilization of resources offers best returns of investments. In several small and big organizations, data base systems are implemented in a manner, so that a physical server hosts several small applications. The issue with this system is that, it leads to inefficient resource utilization. Resources in terms of CPU, memory and I/O capacity of the server are wasted.

Building a Team of Skilled Individuals:

At the crux, lies a team of qualified individuals and skilled manpower. Data management is a niche faculty, and required experienced and expert IT professionals. Lack of skilled and experienced individuals has a dominos effect and the entire data management system collapses.

Managing Mounting Data Volumes:

Businesses are expanding and hence data volumes are increasing. Using the most advanced servers and CPU's storage of data is not an issue, however indexing all that data, verifying and validating it and further managing its distribution across channels is an issue that requires attention.

Data Recovery:

Data recovery is an important issue ever since electronic data came into existence. So much inputs and efforts are invested into creating a database and inventing means of effectively managing it, naturally the issue of recovering data in event of failure remains of prime importance.

Ever Changing Landscapes:

There are so many new applications in market. An organization might have multiple vendors who use different platforms; hence, organizations have to set up multiple data management platforms with numerous versions of each platform in production use. This results in management overhead and restricts value addition to the data management within an organization.

Scalability:

When it comes to data management, scalability is one of the most important aspects. However most of database applications can be scaled and hence the scalability issue is always taken care of. Requirement for scaling cannot be predicted in advance; hence, scalability can be a major issue in applications that do not have a scalability feature.
About the Author:
Ritesh Sanghani
is a Director at Hi-Tech BPO for the past 10+ years. Ritesh has worked with several international clients and has executed BPO projects of varying scales and complexities.