Professional Photo Editing and Retouching Gives Life to Your Images…!!!
Posted by Ritesh Sanghani | Posted on: April 14th, 2015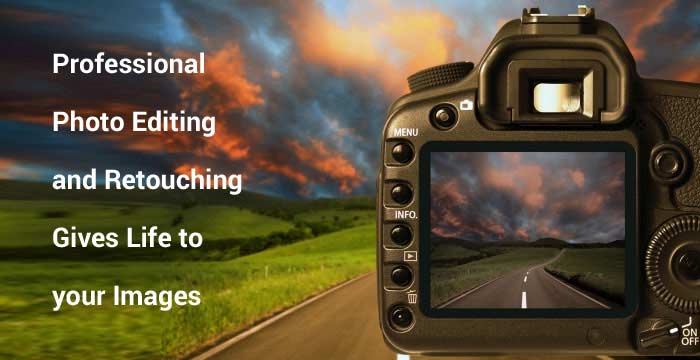 Photographs are the gateways – It provides a window to the past; you can relive those wonderful moments once again through old photographs. However, like all worldly objects; years leave an impact on these images. They become dull, get a yellowish tinge, fades away and in worst case, they also get torn. Well, you cannot stop time from doing its job; but yes, you can certainly restore them and hence keep them away from the usual wear and tear of time.
At this point image editing and retouching comes at your rescue! Earlier, this service was more or less limited to fashion industry for giving a finishing touch to the images and turn them into flawless; high-quality photos. However, with time, it has expanded; extending its reach to normal people like us, who wants to maintain the original condition of the pictures.
Professionals will give your old, torn out photos a new look – they restore it and make it presentable. This 'damage repair' ultimately enhances the condition of the photo and preserves it more a longer period of time. Apart from restoring the originality and giving it a make-over, image editing is gaining pace; largely due to the growth of photo sharing sites.
With the rising popularity of social networking sites like Facebook, Twitter and Instagram; 'image marketing' has become a part and parcel of social as well as business community. These sites have become a prime spot for many marketers; In fact, using these social/photo networking platforms has become a norm these days.
Image editing services provide clear and high-definition image quality making the marketing campaign more powerful and appealing. Hence, increasing number of marketing executives are taking help of professional solution providers. Basically, it is the importance of having captivating photos has driven numerous business leaders to get a gamut of polished, edited and error-free images to ensure that image marketing is done in an effective way.
Since, the attention-span of customers, these days have mitigated significantly; No one likes to go through plain texts. It is here that photos tend to articulate more effectively than the plain text. You would place right picture along to make it more appealing and articulate. Image editing and retouching makes photos more neat and presentable for the viewers. For instance, eliminating blemishes and lightening the photo of a bag makes it more attractive and tempting the customers to get a hold of it.
Moreover, web designing, press releases, and product launch events by and large rest on the tidiness and clarity of images. In order to grab more attention, several digital marketing units are demanding high quality photos; this task can be easily accomplished using photo retouching service provider.
A point that makes photo retouching an excellent option is the cost-effectiveness. Photo editing is done depending on your requirements- personal or professional. Photo editing service really improves the quality of the photos, making them new and preserving them for a long period of time. In fact, it also improves the prospects in the market.
Photo retouching services have become an integral part of not only commercial purposes, but also for personal use.
About the Author:
Ritesh Sanghani
is a Director at Hi-Tech BPO for the past 10+ years. Ritesh has worked with several international clients and has executed BPO projects of varying scales and complexities.