Photo Editing and Retouching; You As a Professional Photographer have Time for It?
Posted by Ritesh Sanghani | Posted on: June 21st, 2016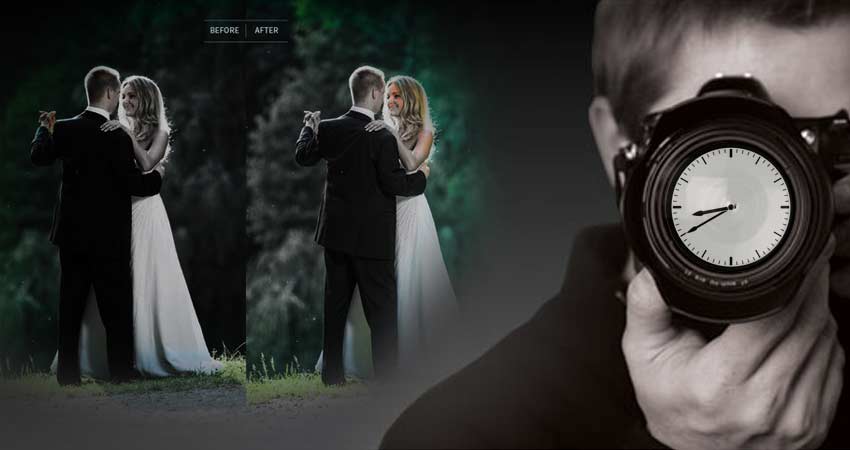 It takes great effort to get that one perfect shot! Ask professional photographers, how he/she captured a moment that is so flawless and they will have numerous stories to tell about the difficulties they faced, while trying to capture the moment.
Irrespective of their proficiency and advanced equipments, photographers fail sometimes to capture that moment – perfectly. The images get ruined either due to bad lighting, photo-bombers or extra exposure. They become worthless, especially for commercial purposes.
It is true that multiple photo editing tools are easily available, however; a professional photographer hardly will have the time to sit down and edit/retouch bulk of images. It is a clear digression from their core competency i.e. "clicking pictures" and complete the assignments in given deadlines (and budget too). So, self-editing does not turn out to be a viable option. So, now the question is, does this problem have a solution? And the answer is Outsourcing.
There are professional image editing and retouching service providers who can take care of these (minor) error corrections, retouching and creating noise-balance. These image editors, proficient at using some of the most advanced features of widely accepted image editing tools enhance the quality of the pictures you clicked, which can be further used for commercial purposes.
Some of the advanced features of image editing and retouching tools, used by these image editing and retouching service providers, are enlisted for the benefit of one and all:
Crop – Photo-bombing is indeed a menace and at times, photographers do capture images with photo-bombing objects/person. It is not feasible to shoot it again and thus retouching experts come to the rescue. They apply crop tool and remove the unnecessary photo-bombing. Moreover, using tools like rotate and straighten, they add more dimensions to the image. They can rotate a photo and change its position to add more impact.
Brightness and Contrast – It takes right amount of brightness and contrast to add a dramatic impact to the image, and soften it for enhanced visual impact. Image editors, generally use this tool to add or reduce brightness or darkness (contrast). It is typically used for adding more effect to sunsets and other such scenic shots, which otherwise might appear flat or dull.
Saturation – Saturation is widely used to augment colors of an image. Using this tool is quite tricky, since its excess use can render unnatural skin tones. Therefore, image editing professionals need to be roped in to make sure this tool is effectively used.
Resize – Size of the image needs to be altered according to the media on which it has to be published. So, when you got to send it for websites, size has to be reduced, to quicken the loading time, while for print media, a large size is required. Image editor applies resize tool and changes the size of the image, keeping the original pixel dimension in the mind.
Color Temperature/Color Adjust – It, sometimes, happen that camera's white balance does not match up to the color temperature of the predominant light source. This results into a color cast. It takes lot of time and effort to remove and adjust image's color temperature. An image editor using this tool, either choose a color neutral (white or grey) or tweaks the image to make it "warmer" or "cooler".
Clone/Rubber Stamp – Photo retouching professionals use this tool to remove (unwanted) items from the image. For example if there is a telephone pole in a perfect rural image, this tool is used to duplicate a part of the picture, usually next to the pole and just paint over the pole. Even elements like glare on glasses, background objects and several such elements can be edited out.
Eraser – Eraser is mostly applied to remove certain sections of an image. Image editors, generally apply it to isolate an object to place it in another image. For example, cut out a person to drop them to a location that is missing in the original image.
Sharpen – This tool is mainly used to edge contrast of the image. This helps the image editor to make minute features stand out and get highlighted. It can selectively sharpen certain parts in an image, like eyes, to draw more attention to it.
Layers – Layers, basically enables creation of two or more overlays having different amounts of transparency and create a new image by combining different parts of these layers. An expert of photo editing can define how layers will interact with each other, so that one enhances color of another image. Moreover, the layers can also be used to superimpose items on each other.
Curves and Levels – Basically, applying these sophisticated tools, change the white, mid or black points of an image. Moreover, it even shifts the photo accordingly. Photo editors use it mainly to push the darks to darker and whites to whiter. Moreover, it is useful to raise the skin tones on a face, while not changing the very bright elements, which a professional image retouching agency can take care. Further, curves is even more flexible and it ensures very sophisticated alteration of the characteristics in the original image.
Channel Mixer – This tool is basically, used to alter the amount of red, green and blue in the image. Moreover, it adds value by customizing black and white conversion to include set amounts of red, green and blue. By choosing monochrome as the output, an image editor can mix red, green and blue channels to enhance features, which plain black & white conversion fails to do. Since, the defaults include 33% each of red, blue and green, only a professional image editing expert can effectively use this tool. They can experiment with 80%/10%/10% of various modes and observe how elements like bricks or blue sky or green leaves will alter from dark to light, in relation to other objects.
Step Fix/Smart Fix – This tool is often use to combine pretty everything of the above tools into a simple-to- use dialog box. Using this tool, the editor can play with several things at a time and improve an image.
In the end
For a professional photographer or event photographers, sitting down to edit images might create a digression from their core work i.e. "clicking pictures". This eventually leads to missed deadlines (and budget too). Therefore, opting for a professional image editing service provider is the most viable option! Want to know more? Take a handful of images that you are not totally pleased with, and send them across to us to see how we can extend our creative and editing skills to produce truly great works of photographic art.
About the Author:
Ritesh Sanghani
is a Director at Hi-Tech BPO for the past 10+ years. Ritesh has worked with several international clients and has executed BPO projects of varying scales and complexities.