Marketing Trends Continually Change, Data Remains Constant
Posted by Ritesh Sanghani | Posted on: May 18th, 2016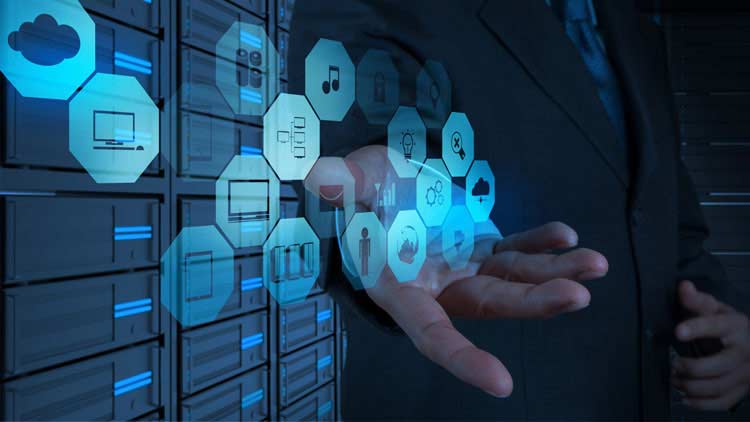 Traditional marketing models are continually evolving. Contemporary methods like guesswork and approximation no longer exists. Marketing decisions are made by closely referring the data, for better insights.
With help of data-driven marketing, businesses right from retail to real estate and from banking & insurance to media & publication can systematically pull out inferences from various data-sets. This further helps them to gain actionable insights of the prevailing trends and create opportunities to develop marketing effectiveness. In fact, in a study by a leading newspaper, it was revealed that almost two-thirds of senior marketing and advertising managers strongly believe that data-driven marketing is essential to survive and succeed in the hyper-competitive global markets.
The awareness about significance of processed data and its immense contribution in optimizing marketing activities right from lead generation to customer retention, has grown among marketers. And therefore, they are contacting data processing service providers, to reap maximum benefits of the data.
Drivers for Data-Driven Marketing
It is no more a secret that 'updated data' plays a crucial role when it comes to effective marketing. Right information is required at every stage, whether it is for lead generation or to create personalized promotional campaigns.
A recent study suggests that 64% marketing managers, of those who participated, strongly believed that data-driven strategy is best applied for creating personalize customer experiences. It implies that majority of marketers, are actually undermining the importance of expanding their marketing database. But the irony is that only 14% of the participants emphasized on growing the marketing database.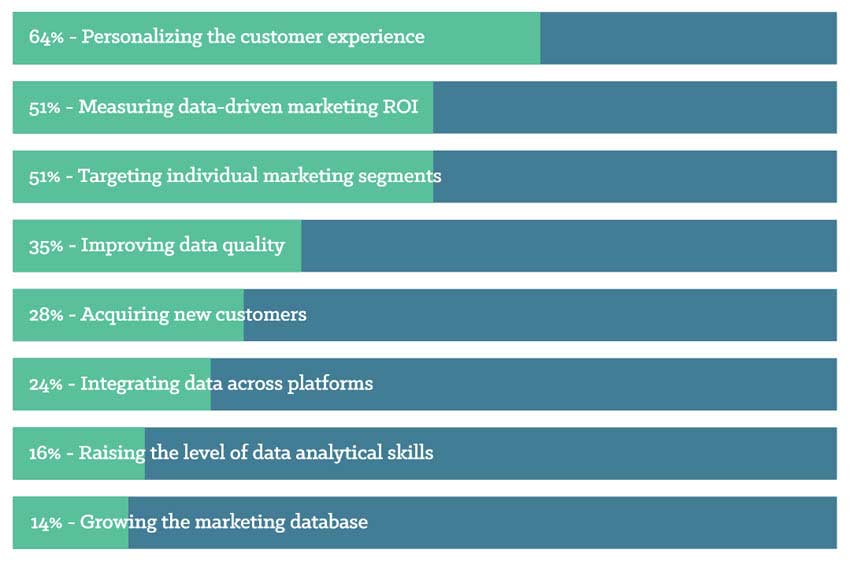 Moreover, the results had its own share of surprises with just 28% marketers using it to acquire new customers. In competitive market that we are dealing in, acquiring new customers is the key to gain strong foothold.
How mature is a data-driven marketing in practical use?
While prevalence and value proposition of data-driven marketing is quite strong, a very small portion, mere 33%, actually recognizes the strategy as "extremely successful." The major chunk of 57% do not find it that successful, but who knows, may be their data is not processed and well managed to give them the required insights and decision making power.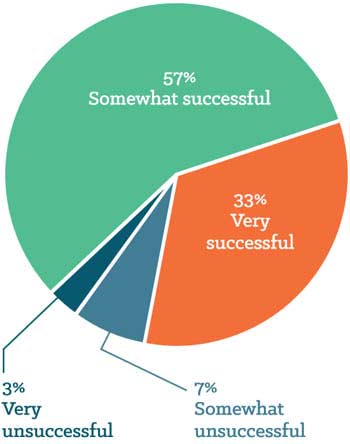 What is it that those 33% marketers did with their data which makes them think that it was highly successful. Perhaps the answer lies in data quality and with the data processing experts who manage their data. This new-age marketing strategy has made its way right from healthcare to insurance and from travel & hospitality to energy & utilities. However; approx. 60% of marketers are grappling with the ways in which they can incline on data and enhance lead generation & customer acquisition, which is a considerable figure in today's concurrent market dynamics.
There may be numerous reasons but the often cited one is too much raw information that adds to the unreliability quotient. Getting reliable, accurate and quality information forms the core of obstacles for marketers.
We need to understand the fact that the data is static and can never bring about a change on its own. Use it to make market predictions, identify the trends, target markets and so on so forth, appropriate utility only can bring about expected changes. These aspirational cases immediately get derailed if marketing professionals rely on data that is inaccurate or not processed as per the business needs. Poor quality intel from poor data will create no value for your business – do you agree?
One things that needs precise attention here is that businesses today capture and generate massive amount of information from Omni channel sources on daily basis, adding up to the volume and velocity of data expansion.

The data collected in form of online survey data or web researches is often used by multi-listing sites fondly known as MLS or third party vendors. Often the information is highly fragmented, completely chaotic and incoherent, and hardly provides any insights. In fact, often it ends up being useless in the data silos. Data-decay and deteriorating quality is often cited as one of the major challenges that holds back marketers to adopt the data-driven approach.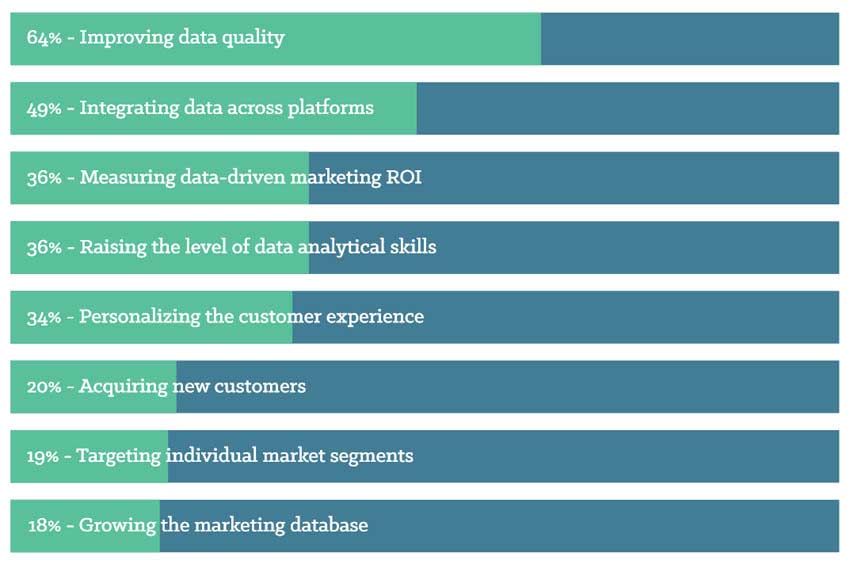 Widely acknowledged fact is that the frequency of data cleansing is directly proportionate to the data quality. A large number of "very successful" data-driven marketers make sure that their data is cleansed for data quality, well in advance by data cleansing experts at least once a month, before utilizing it for drawing insights for marketing purposes. Data processing experts process the raw information and present it into easy-to-comprehend formats like charts, graphs or tables, enhancing data visualization. This, further, provides a clear perspective about customers' preference or current market trends that should and could affect the promotional activities.
Achieve valuable business insights with processed data!
Integrated and clean database helps the marketers gain in-depth business insights and apply it to target customers precisely with most relevant offers. In fact, whether it is for B2B or B2C marketing, processed data gives the exact details which further makes it easy to approach the potential customers.
In approx. 63% instances, B2B marketers have got the exact first/last name of their client and in 42% they got the perfect company details. This, they say, further exemplifies the effectiveness of their campaigns. In other 39% cases, marketers are provided with exact job title/role – this helps them address the precise requirement. Around 24% instances, they received the accurate website URLs and location address.
The benefits are not limited for B2B marketers only. For B2C in retailing, eCommerce or real estate, marketing managers fetch precise customer data, further helping them to create segments based on factors like geography, gender, age, lifestyle, and so on. Also, they can understand the behavioral patterns of their consumers with data such as product usage and frequency of purchase. Based on this, they can target marketing campaigns, where they can re-engage the past customers or can reward their frequent buyers.
In addition to this, when the data is placed in proper data structure, marketers can easily fetch valuable psychographic information which helps them with answers to question like "what motivates the customer to buy the product/service"? All in all, marketers can apply this to understand customer preferences and the factors that affect it. Besides all this, processed data also provides acumen about the demographic factors like age, occupation, gender, or income. Such insights give a proper direction to marketing managers and hence; they can place the right message to the right people, at the right moment. This amplifies the effectiveness of their campaigns.
Bottom-line
Marketing trends continually evolve – but what remains constant is the data. Well-organized and updated data-sets help the marketers to catch the nerve of the customers and create campaigns which deliver right message to the right person, at the right time.
Images view zoominfo.com
About the Author:
Ritesh Sanghani
is a Director at Hi-Tech BPO for the past 10+ years. Ritesh has worked with several international clients and has executed BPO projects of varying scales and complexities.