Insurance Data Processing Saves Those Valuable Man-Hours and Finances
Posted by Ritesh Sanghani | Posted on: September 29th, 2015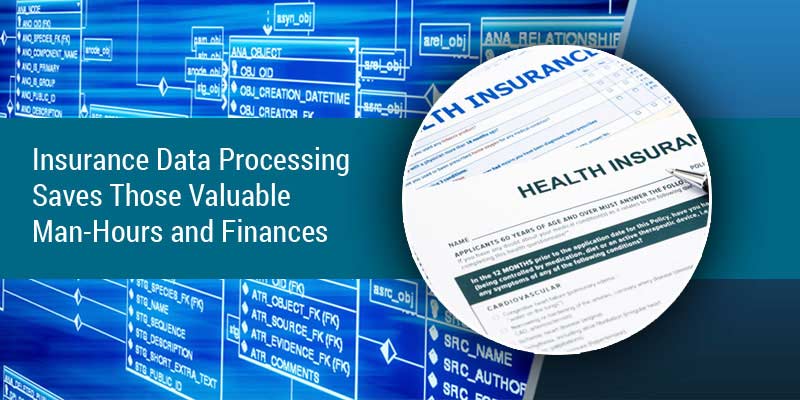 Is undocumented or unarchived database affecting down your productivity quotient badly? If yes is the answer; then your database is clearly in a bad shape!
A well-documented and archived information cache forms the most strategic assets for any organization. In this information obsessed business sphere; where data literally pours in; it has become extremely crucial to process this raw, unrefined data and convert it into a comprehensive and relevant set of information. In fact, for organizations like insurance companies and banks, which solely thrive on data of different kinds, taking help from professional data processing services has now become mandatory.
Since the volume of business intelligence in the insurance sector and banks has swollen manifold; hiring or partnering with proficient data processing services has become need of the hour.
It is obvious, to have questions like – Why do I need a data processing specialist in the first place or data was the same earlier; there was no one special to take care of; then why to outsource the task?
These questions tend to arise and well the answer to this is; things are changing rapidly and moving up with the tide is a clever move. Data is literally gushing in and one needs to be quick, efficient and trained to handle such massive amount of information and process it in the most comprehensive manner. And now, it is not possible to handle data management, and concentrate on core business areas – all at the same time. You need to find a data management expert soon.
Why should I hire or partner with a data processing service provider?
If you are a veteran in insurance industry; you very well know that there are forms everywhere; of all shapes, sizes and complexities – that needs to be scanned, indexed and validated.
And now, when you have such mammoth data in form of insurance claims, tracking and sending out various claim notifications, making claims follow-ups, policy renewal forms, Survivor Payment forms, medi-claims or any other insurance document; your team is bound to make errors, leading to mixed up identities or in worst case scenario – frauds.
In insurance sector, such "grave" mistakes have zero tolerance. One such error and you have to part away with huge chunk of funds. Specialists, on the other hand, possess required knowledge and tools, through which they can efficiently scan, stream, index and thoroughly validate the forms. In fact it is likely to reduce half of your burden.
Not just this, these specialists can also extract information from any format; whether electronic-based like web-forms or emails as well as paper-based claims including fax or paper. Moreover, they can easily take up a digitalized and data-driven approach to reduce claims expenses, ensure better identification of fraudulent activity, along with giving a personalized, customer-centric experience.
In addition to this; with their expertise in data management; data processing specialist ensure a structured form processing for a variety of forms that include medical claim forms, insurance papers, other financial and legal documents.
And that's not the end; in fact, most of these data processing companies are equipped with OCR (optical character recognition) readers that extract the information from any documents, and then interpret it, verify it carefully before finally transferring to your computer system.
In fact, outsourcing task will help you in saving your time and concurrently helping the customers to get their claims processing done in a faster and effective manner; thus reducing the unnecessary waiting periods.
Partnering with a data processing company can be highly economical on your pocket as well as for those valuable man-hours that, otherwise goes to sort the insurance data.
About the Author:
Ritesh Sanghani
is a Director at Hi-Tech BPO for the past 10+ years. Ritesh has worked with several international clients and has executed BPO projects of varying scales and complexities.