Adobe InDesign – The Ultimate Tool for Desktop Publishing!
Posted by Ritesh Sanghani | Posted on: December 23rd, 2014
Desktop publishing has come a long way! – Earlier, it was just about minting some quick money by producing flyers, menus and other simple publications. However, this entire concept has evolved considerably – With the advent and advancement of software like Adobe InDesign; and henceforth Desktop publishing and Web development faculties have progressed with leaps and bounds.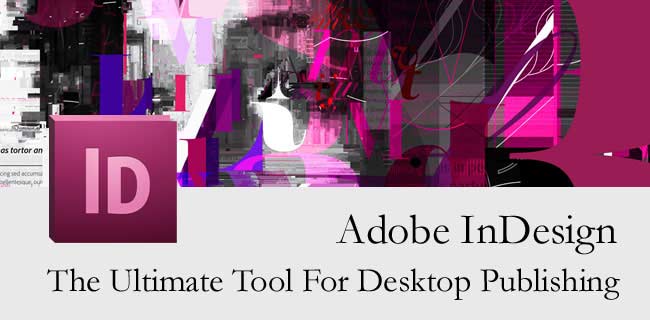 The constant updates have helped Adobe InDesign keep up with the current and remain relevant.
The once popular applications like Print Master, The Print Shop, or Microsoft Publisher have become obsolete; mainly due to the fact that the fundamental page editing tools are available in most word processing software as well. So, basically one never realized the need for any specialized tool.
Putting in simple words, since there are numerous apps and websites people are not looking for a specialized and dedicated software to create a flyer or any publishing material. However, Adobe InDesign had continuously rolled out changes and updates giving it an advantage over the other applications, we just mentioned in the article. In fact, Adobe, in the recent past demonstrated its ongoing up-gradations; it launched InDesign CC 2014.
The latest and advanced version of InDesign boasts of a variety of fresh and sophisticated features such as:
Simplified tables,
Improvised search options
Better footnotes
Scaling of effects
In addition to this, Adobe also introduced unified updates, so the presets, preferences, and shortcuts are completely intact even if there is an update. Talking about some real-world perspective, many Adobe InDesign users have interesting stories on how it has helped to further their desktop publishing business to great heights.
A creative lady who started off her stint with the desktop publishing in 2001 when Page-Maker was the king says that eventually, she decided to take up a solo act catering to a very exclusive demands from a particular market segment.
She says that creating customized manuals with detailed documentation is a daunting task, and Adobe InDesign has played an instrumental role in furthering her business and giving outputs that are at par with the global quality standards. There are many such professionals who will agree that it is one of the most powerful page publishing program on the earth as it seamlessly integrates with the rest of the Adobe Creative suite,as well as with the Type Kit.
Also, many professionals are ardent fan of the regular updates across the Creative portfolio. Additionally, one of the primary reasons why professionals are completely in love with InDesign is that it makes the job much easier and faster.
According to many designers, InDesign provides a lethal combination of power and simplicity which enables them to be more efficient in creating documents giving them a professional touch. The bottom line, one who constantly upgrades and manages to adapt to the continuously changing demands is the one who wins the race! – Adobe has proved this; it has evolved just as necessary, relevant to maintain a pace with the market.
Hi-Tech follows the best Adobe InDesign DTP practices and has become one of the leading DTP outsourcing service providers based in India. The company has hence garnered goodwill and managed to retain a client base across countries of US, UK, Australia and UAE.
About the Author:
Ritesh Sanghani
is a Director at Hi-Tech BPO for the past 10+ years. Ritesh has worked with several international clients and has executed BPO projects of varying scales and complexities.